On Fade To Black
January 17th 2018
Elongated Skull DNA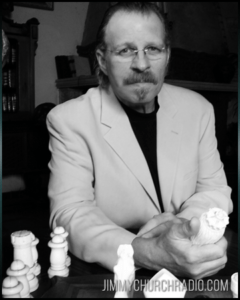 L. A. Marzulli is an author, lecturer and film maker. He has penned 12 books including The Nephilim Trilogy which made the CBA best sellers list.
He received an honorary doctorate for the series from his mentor Dr. I. D. E. Thomas, who was the Provost at Pacific International University.
L. A. and film producer Richard Shaw to create The Watchers series… there are now TEN installments in the series and Watchers 7: UFO Physical Evidence, won UFO Best Film and the Peoples Choice Awards, at the UFO Congress in 2014.
On February 2nd here in Los Angeles, L.A. and Richard Shaw are announcing their DNA results from a set of elongated skulls from Peru… along with Brien Foerster and Chase Kloetzke…
Websites:
http://lamarzulli.net
http://kgraradio.com/acceleration-radio/
Live at 7:30 PST!
___________________________________
Marsha's News Links!
Us Embassy will move to Jerusalem sooner than expected?

http://www.israeltoday.co.il/NewsItem/tabid/178/nid/33188/Default.aspx
Spread the word   
"Now a year after HB 1523 was passed, Mississippians know they are free to live according to their religious beliefs about marriage without fear of losing their livelihoods."
http://dailysignal.com/2018/01/16/the-supreme-court-quietly-gave-religious-liberty-a-big-win/
https://aim4truth.org/2017/02/18/all-roads-lead-to-armageddon/

https://www.jihadwatch.org/2018/01/raymond-ibrahim-why-professing-christ-is-becoming-a-hate-crime-in-the-west
http://www.dailymail.co.uk/sciencetech/article-5273947/Amazon-s-Echo-Spot-coming-UK-later-month.html
Actions speak louder than words    http://www.americanthinker.com/blog/2018/01/is_the_pope_prolife.html
http://www.wnd.com/2018/01/ex-cia-officer-suspected-of-spying-for-china/?cat_orig=world
Proof that animals love and are attached to people  https://youtu.be/iyeWTFLzNZ4
https://thenationalsentinel.com/2018/01/16/this-is-why-trumps-travel-bans-are-vital-to-protecting-americans-and-why-judges-who-block-them-should-be-impeached/
___________________________________
We will be LIVE-STREAMING our DNA results.

We have also procured a larger room that seats 250 people Admission is free!
____________________________________
Israel TOUR!!!!
We have now teamed up with Prophecy Watchers! Don't miss out on this great tour!