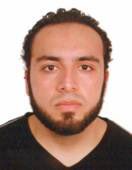 Commentary & Analysis
by
L. A. Marzulli
The Current political landscape is in direct correlation to supernatural events, that happened, in some cases, millennia ago. From Politics, Prophecy & the Supernatural.
Fed Sources To CBS News: Same Suspect Believed Involved In NYC, NJ Blasts
Authorities Seeking 28-Year-Old Ahmad Khan Rahami
http://up.anv.bz/latest/anvload.html?
A few weeks ago I stated on this blog that we were officially overdue for another terrorist attack. Here's the link so you can go back and read it for yourself.
https://lamarzulli.wordpress.com/2016/07/19/another-jihadi-s…of-civilizations/ 
The quote above is from PP&S, which states that we are living in a time when we are experiencing a clash of civilizations, due to two different sets of supernatural events that happened, in the far distant past, that have "colored" the body politic.
In other words, Jihad can be linked back to the supernatural events surrounding the prophet Mohammed.
What we are seeing being played out over and over again and with what has now become an ongoing regularity, is a clash of civilizations. It is in my opinion, orchestrated by those who seek to bring about chaos and the New World Order. Why would Obama insists on allowing thousands of refugees into our country without vetting them? Why would Germany's Merkel allow upward of a million refugees into Germany?
What happened over the weekend in New York and New Jersey will be played out over and over again all across America. Yet, the solution from the left is to round-up our guns, and our president scolds anyone who would stand up and state that maybe the problem is with radical Islam.
There are now thousands of immigrants in our country. Mosques are being built in every state and organizations like CAIR—Counsel for American Islamic Relations—are firmly embedded in our political system.
Before the events of 911—in which the official version has now become suspect—most Americans didn't know the word JIhad, or anything about honor killings or female genital mutilation. Not to mention Moslem "holy days," Burkhas, and Hijabs. Now, all of these words are in the American lexicon.
Newt Gingrich stated recently that Moslems who favor Sharia law over the constitution should not be allowed to be in our country.
Trump has stated that we need to monitor what is going on the mosques.
The enemy is within the gates. The Jihadi's are here and they have one purpose, and that is to cause as much chaos, terror, and fear as they possibly can. Guess what, it's working.
As of this post POTUS has not made a statement about the bombings. When he does he will lecture us about how we, as Americans, can not lump the few acts of terrorism with Islam. The problem is this, upwards of 100% of the acts of terror committed on this planet are from the Jihadi's.
In closing todays post. There will be another candle light vigil. Obama will call for restraint and tolerance. The Left will clamor for more immigrants to be allowed into the country. Pope Francis will tell us that immigration is the way to fight terrorism, which in my opinion may be the most delusional statement of the 21st century!
Most Americans will wonder what to do and as there is no leadership in Washington and no plan to really address the ongoing jihad within our borders. A few weeks will go by and then we will see another attack.
The only way to stop it is to monitor the mosques, stop the immigration of people from countries that promote Jihad and to crack down on the hate speech from the Imams within our borders.
As Newt stated, if these people favor Sharia over our constitution then perhaps they should seek a country that favors their ideology, like Saudi Arabia. The Jihadi's will not stop and we will see more attacks.
The answer is simple. Close the mosques down that preach hate and deport everyone who favors Sharia.
Stop the flow of immigration from Moslem countries that promote Jihad.
Everyone above 18 years old should be packing. Period. If the Jihadi's know we will shoot back they'll think twice….
__________________________________________